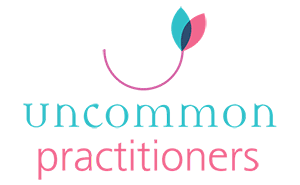 If you have arrived here after clicking on a badge on a practitioner's site, you may be wondering what this badge means.
Well, the badge is proof that the practitioner has successfully completed one of the following courses by passing the tests throughout that course.
These courses are developed by Uncommon Knowledge and delivered by Mark Tyrrell. You can read more about our approach here and about the company here.
The courses the badges refer to are:
Online Courses
Become a lightning-minded reframing master with this cutting edge course (includes Mark's book 'New Ways of Seeing'). Read more…
A revolutionary, structured approach to get your depressed clients feeling much better within 6 sessions. Read more…
Learn the astonishing Rewind Technique to lift PTSD and phobias rapidly, usually in a single session. Read more…
A totally new approach to hypnotherapy for smoking cessation which totally does away with the old tug-of-war between therapist and client. Read more…
Uncommon Knowledge's unique approach to hypnosis. Whether you're a non-hypnosis practitioner, a CBT-er who wants another tool, or a hypnotherapist who wants to upgrade skills, this course will give you all you need to know about conversational, Ericksonian hypnotherapy. Read more…
Be confident with the most complex or resistant clients by gaining a deep understanding of the psychology of persuasion and advanced hypnotic skills. Read more…
Uncommon Practitioners
Anyone displaying a badge on their website for one of the above courses is what we call an 'Uncommon Practitioner'. However, although they have completed a course, you should still carry out your own checks before employing any practitioner to ensure that they are a good fit for you and your situation.