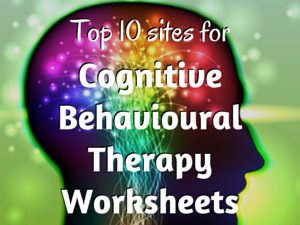 Hi, it's Rosie here, Uncommon Knowledge's content manager. I've been hearing a lot from practitioners who use Cognitive Behavioural Therapy (CBT) and are on the lookout for new resources, especially CBT worksheets.
While we don't use worksheets in the Uncommon Knowledge approach, I'm always looking for ways to help our practitioners out.
So to flesh out our resources, I've had this list put together, which features ten of the best websites featuring CBT worksheets.
Ten of the best websites featuring CBT worksheets
Where to find CBT worksheets
CBT is one of the most widely used therapeutic treatment approaches in mental health today. Because it is an action-oriented approach, homework is a key aspect of the change process. And CBT tools such as worksheets, activity assignments, bibliotherapy and guided imagery can all be useful homework assignments.
But finding those clinically-sound, cost-effective and easy-to-access resources can be the therapist's challenge. There's not always time to sift through books or surf the 'net looking for those CBT worksheets or teaching tools that are "just right". Aside from staying on schedule, you want to spend time with your clients, helping them achieve their goals.
So here's a list of ten of the best CBT resource sites for you to use as a reference point for your practice:
Therapist Aid is one of those great, easy-to-use websites created by practitioners for practitioners. Their tools are created with the client in mind so that they are jargon-free and practical to use. Most of the site's resources are free. They do offer a number of books for purchase for those seeking more in-depth information or resources.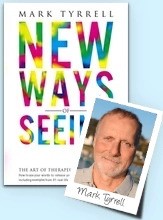 FREE Reframing Book! Just subscribe to my therapy techniques newsletter below.
Download my book on reframing, "New Ways of Seeing", when you subscribe for free email updates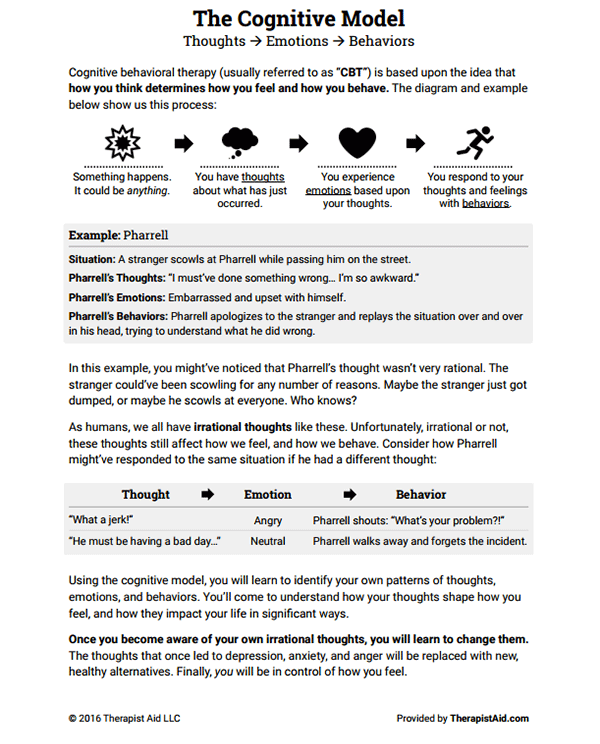 The site contains a huge selection of CBT worksheets as well as videos, guides and other resources. 'The ABC model of CBT' is a particularly good video to help clients understand the relationship between their thoughts, feelings and behaviours.
Psychology Tools is another one of those really great sites that has been created by practitioners for practitioners. It was designed as a way to share materials among therapists. The site offers a number of CBT-specific articles, assessments and tools for clinical use. There is also a self-help section.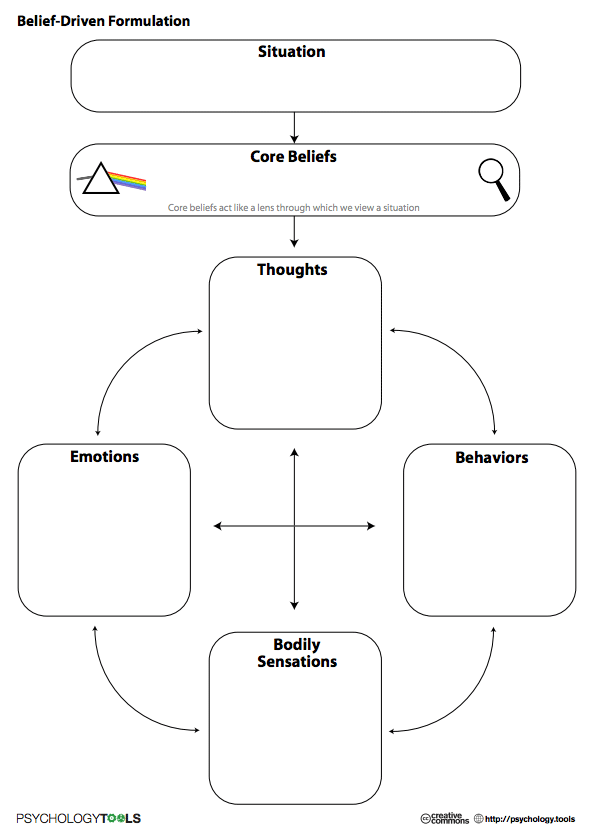 One of the strengths of this site is that it offers resources for several other therapies including ACT, DBT and EMDR. Therapists can also submit their own worksheets or other resources for consideration of inclusion on the website.
Guided imagery and mindfulness meditation are often used as part of a CBT approach to treatment. This site offers a range of free audio downloads for a variety of needs. These downloads can be used in the office or as part of a homework assignment.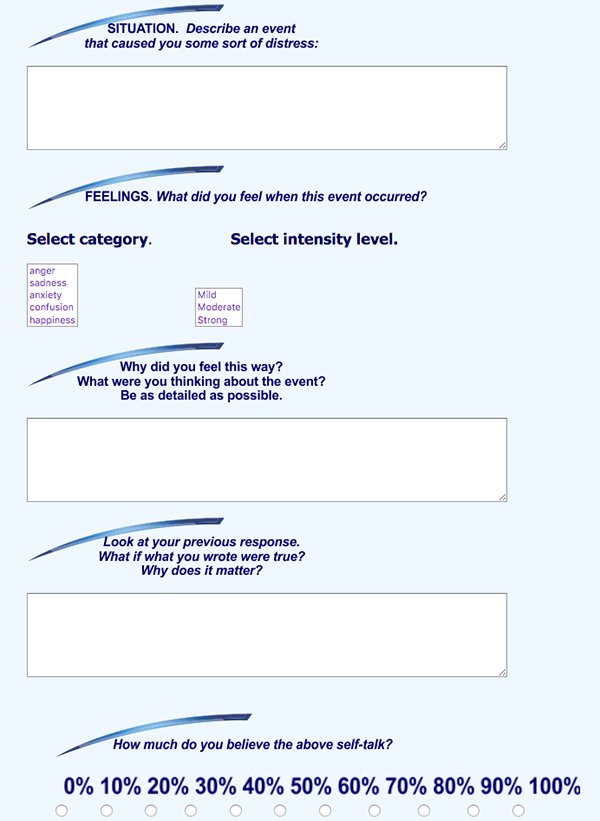 This site offers several CBT resources for the practitioner as well as the client seeking self-directed support including informative articles and forms such as a mood diary and various questionnaires. This site is exceptionally user-friendly.
This site offers a number of worksheets and tools including diary forms, action plans and a number of helpful self-statements that are great for sharing with clients. The tools are mostly in PDF and are easy to download. The site also offers several self-help books for purchase.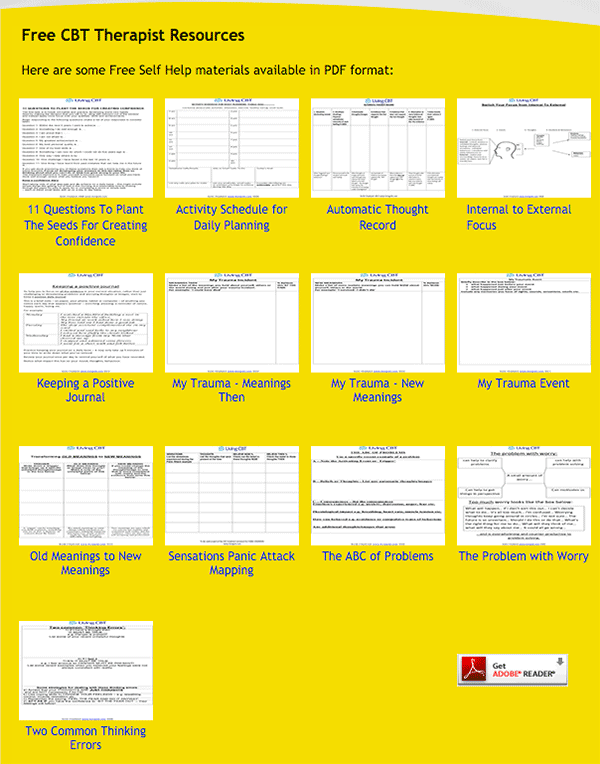 Aside from the self-help section, this site also has a Free CBT Therapist Resources section. The tools available here are similar to those found in the general section but some are more appropriate for use in the clinical setting.
This site is a great little gem chock full of CBT resources and downloads. Worksheets cover everything from a CBT journaling guide to incorporating mindfulness to using CBT with cyberbullying. Spend a little time on this site and you'll find all kinds of useful tools that you and your client can work with. The owner of this site has put a lot of work into making a plethora of resources available to the user.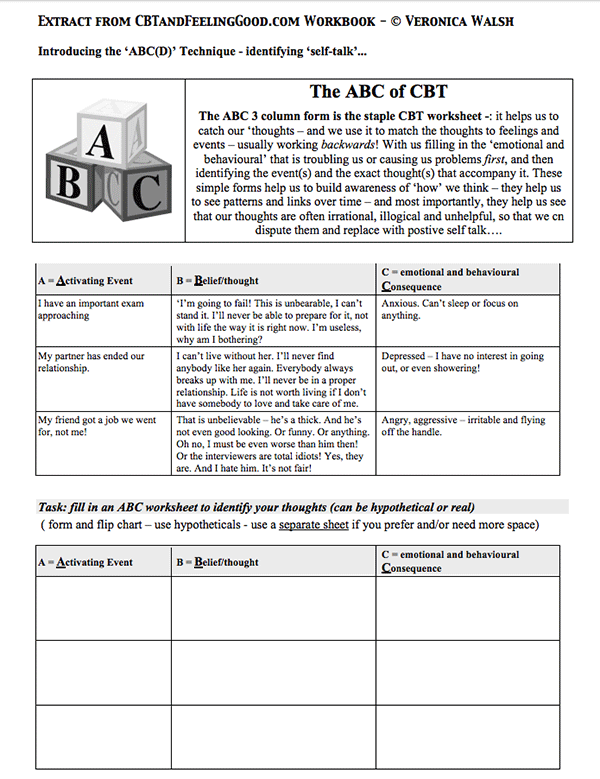 This site offers a variety of worksheets for the practitioner as well as worksheets specifically for CBT. They are well-designed and easily adapted to a variety of clients. Two worksheets to check out are the 'Ways to Challenge Your Thoughts' and the 'Procrastination Profiles', as well as accompanying 'Task Master Worksheet (for Procrastination)'. These are nicely done and would be particularly useful with the client struggling to understand thought patterns and challenging negative thinking.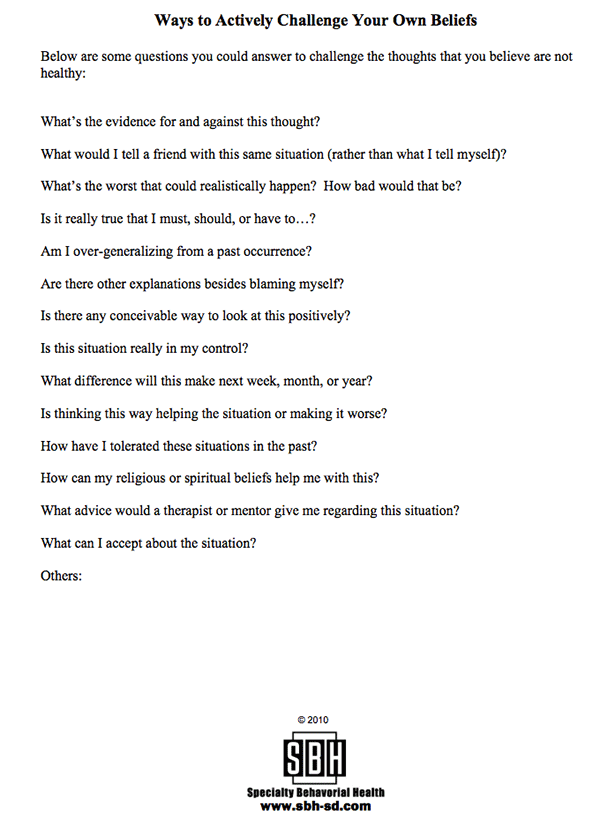 This website provides a number of CBT self-help and therapy resources, including downloadable worksheets, information sheets and CBT formulations.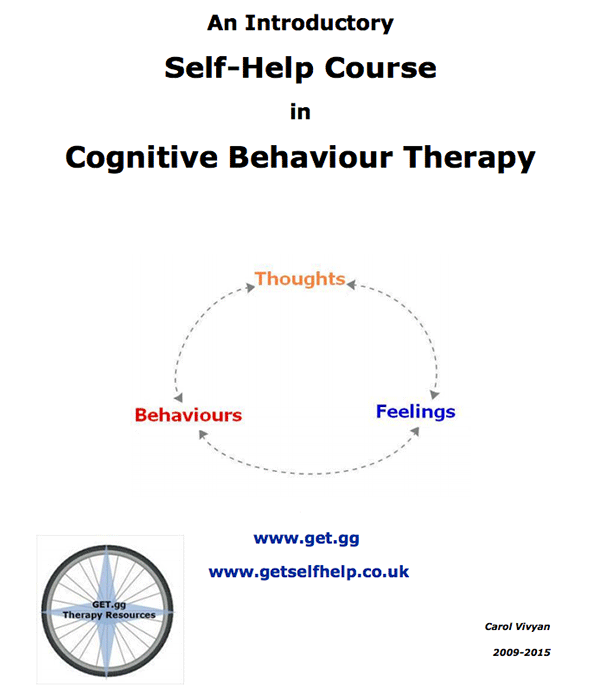 One of the standouts of this site is the 40-page CBT-based self-help course. It's free and chock full of information and tools to help your clients understand and implement changes. You can find the course here.
This is a 52-page fully downloadable CBT workbook from the Hertfordshire Partnership University NHS Foundation Trust. It is full of client-friendly descriptions, activities and tools for setting and achieving goals. This workbook is the kind of tool that can be used by the therapist with a client or as a self-help tool for self-motivated clients.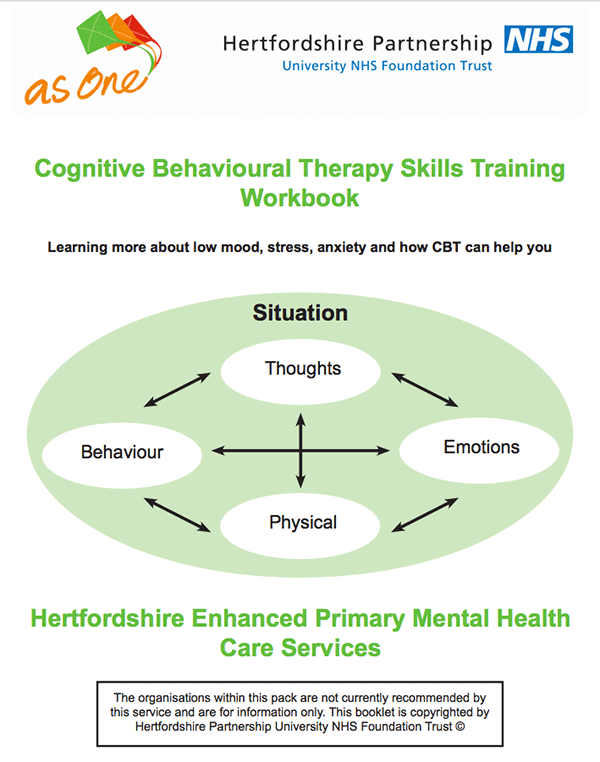 This site is often mentioned when the question of CBT resources comes up. While not as extensive an offering as some sites, the forms and tools found here are well-produced, immediately usable and user-friendly.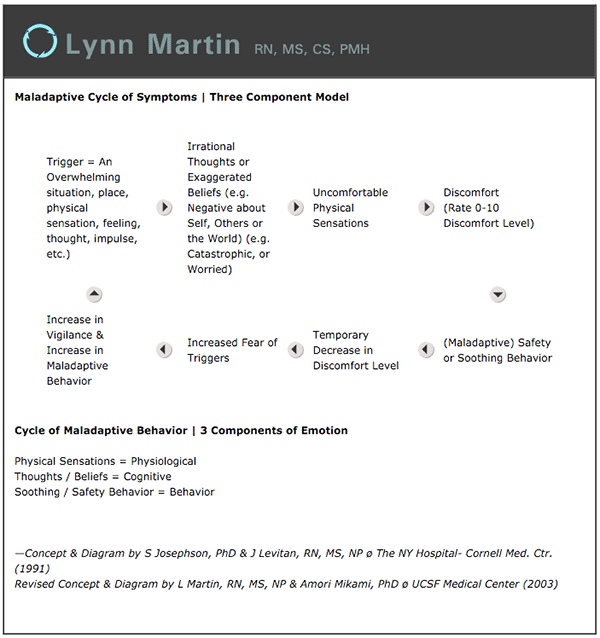 One of the highlights is the 'Cycle of Maladaptive Behavior' sheet. Clients don't always understand the cycle and how their behaviours manifest. This worksheet does a good job of describing the cycle and how it unfolds. The site also offers an excellent handout with examples and descriptions of cognitive distortions. Definitely worth a visit!
A list of CBT worksheets would not be complete without including a few child specific resources. CBT has been shown to be effective with children, especially in trauma work.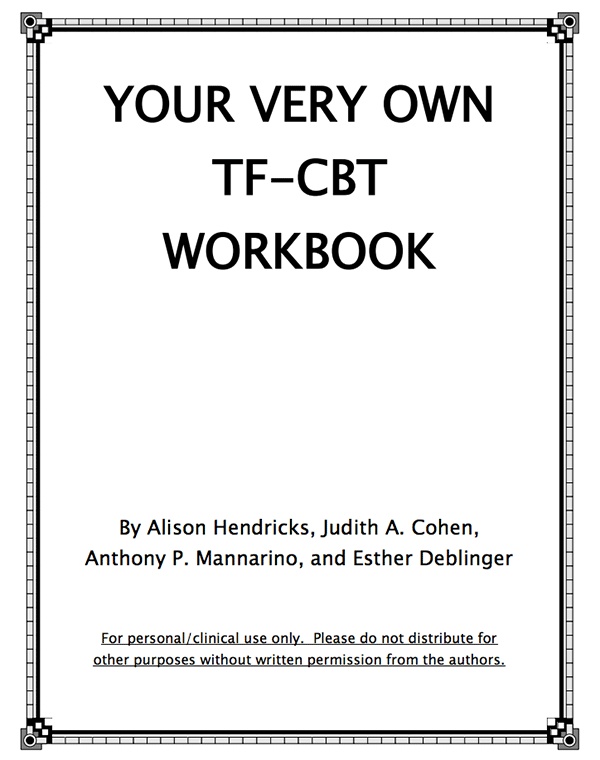 This workbook is an excellent resource for CBT and trauma work with children. There are relatively few tools specifically designed for children. This workbook is particularly well-constructed and child-friendly.
So there you have it. Ten of the best sites out there for CBT resources and tools. Are there more out there? You bet! There are lots of great resources out there for every level of need and every type of problem. But these sites represent some of the best of what's out there and will get you started in working with your clients using CBT worksheets. You'll have more time with your clients and your clients will benefit from having some of the best tools out there.
Update: This post was so popular with readers we added another! Read 10 More Top CBT Worksheets Websites here.
Cognitive Behavioural Therapy is an important part of the treatment jigsaw and Mark Tyrrell would want me to mention the following articles we already have available, in the spirit of setting it in a wider context:
Would you like to enhance your reframing skills?
Click here to read how my online course 'Conversational Reframing' shows you how to craft cunning reframes and slip them past your clients' conscious criticisms.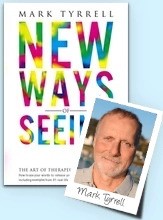 FREE Reframing Book! Just subscribe to my therapy techniques newsletter below.
Download my book on reframing, "New Ways of Seeing", when you subscribe for free email updates
Search for more therapy techniques: