This podcast is a clip from the Live Q&A teaching sessions which are part of our online homestudy course The Rewind Technique, where therapy practitioners from all over the world learn this rapid and comfortable detraumatization method. Here's the question from one of our students…
"I've a new client who's experienced physical and emotional abuse as a child, in the Imprint period, around 6-7 years of age. After a couple of sessions it's become clear that there may a couple of significant events, during the Imprint period, which may have anchored a pattern of learned helpless, and in-turn has developed into anxiety and depression as an adult for this person. Is it crucial to identify the very first event which created the trauma pattern, or will applying the technique on similar though later episodes delete the entire problem/gestalt?"
Listen to the answer by clicking the play button below:
In this podcast, I discuss:
Why it's not always essential to discover the initial cause of a trauma.
Why if the memory is not troubling then there is no need to delve into it. It's the 'active' memories that need our attention.
How memories are seeded in infanthood, using the example of a button phobia.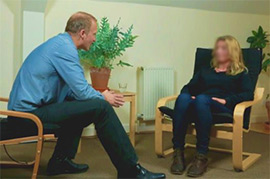 Discover How Thousands of Therapists Stop PTSD Symptoms in a Single Session
Read the transcript below:
Thanks Richard.
We don't always necessarily need to get back to the initial memory and sometimes therapists are perhaps a little guilty of getting too hung up on discovering the root cause, the initial instigating experience that they believe may still be maintaining the problem in the here and now. Some of that may be left overs from Freudian thinking.
Now so it's important not to get too hung up on the initial memory if it's not re-called by the client, if they don't know why they have a phobia or feel traumatized by something. It might have been forgotten because it might no longer by an active, it might not be an active trauma-maintaining memory by itself any more. That can happen. Sometimes you'll talk to someone who has a phobia and they will say 'when I was five and this happened' and you say 'when you think about that time do you feel anxious?' and they say 'no I don't actually, but the time when I was 30, and I saw a spider, last year, that makes me feel really anxious'.
If that's the case then their mind has already processed the initial experience and we don't need to work on that, we need to work on what is actually active in this person's brain as far as trauma or the phobia is concerned. So we need to focus on the times they can remember feeling really scared.
I think the example I use on the course itself is that an adult may have developed a phobia of buttons and this happens in a similar way, at a very young age when memories were laid down and recalled differently.
You see in the early years we have what are called snapshot memories, they are only called narrative memories as the brain develops.
So say a six month old may put a button in their mouth and an adult, not wanting them to swallow the button, may panic because the child has a button in its mouth and they may shout out and that may startle the baby.
And now the child may develop a conditioned fear response to buttons but may never know why.
It's very unlikely they will ever recall the memory of being six months old, but the child as he or she grows will have a fearful response to buttons and they will be so intense that they stand out in memory.
When they are six they might have a terrible experience with buttons or 16 or 33.
By working on those recalled memories we effectively undo the work of that initial experience. We don't have to work on that initial experience as it may be beyond the reaches of memory in that way, so the pattern has been changed without having to know exactly the very first experience – which may be much less of a fuel for adult anxiety than more recent fear reactions to buttons or whatever.
So I hope that makes sense. Thank you Richard for that.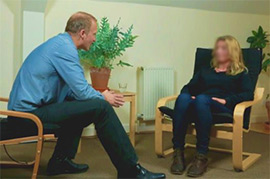 Discover How Thousands of Therapists Stop PTSD Symptoms in a Single Session
Search for more therapy techniques: