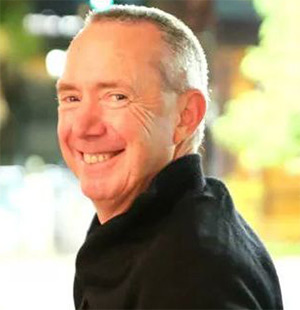 Michael Zienow is a hypnotherapist from Victoria, Australia.
How long have you been practising?
I have been seeing clients for 12 Months. But have experienced Hypnotherapy since my early twenties when with the help of Therapist (Harry Berger) and my Mentor Alan Stewart I achieved my Black Belt Grading three days after my Mum's Funeral.
Hypnosis and Self Hypnosis has enabled me to not only perform well in my chosen endeavours but overcome many obstacles.
Do you see clients from home or a clinic?
I run my practice from Home / Part Time and occasionally at the clients' residence. I also work full time as a treatment plant operator (Recycled Water) my original trade was an Electrician but have also taught Martial Arts, worked as a Technical Sales and Customer Support Engineer with an Automation Company and Worked as a Works Supervisor for a Large Contractor looking after Electrical, Mechnical and Civil Teams.
What problems/issues do you treat most frequently?
I deal with Weight Management, Stop Smoking, Anxiety, Sports Performance, Perspective Altering, Stop Drinking and Sleep Disorders.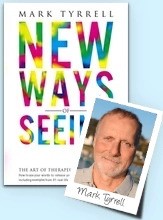 FREE Reframing Book! Just subscribe to my therapy techniques newsletter below.
Download my book on reframing, "New Ways of Seeing", when you subscribe for free email updates
What are your biggest frustrations running your practice?
The things that make Hypnotherapy difficult are Result Delays, Secondary Gain and the Stigma attached to Hypnosis. TV has not done us any favours.
What do you find hardest about your daily work?
I would like to be doing Therapy full time rather than my current profession. I meet lots of people that dislike what they do and could live a more fulfilling existance with a change of perspective and a few more tools in their tool box.
Many are stressed at work which results in more sick leave, pressures at home and pressures about obtaining a work life balance. With a few extra tools they could avoid escape mechanisms like sick leave/alchohol/smoking/drugs.
Do you find your professional body supportive and helpful? Do they help you create connections with fellow therapists?
I Trained with The Tad James Company and Scott Jansen (Conversational Hypnosis Academy). Scott has Organised a group with his students on Facebook. I found it very supportive. As my network of colleagues grows by encouraging not only the exchange of ideas but the openness and positive feedback.
How do you balance work and life? Stress management/avoiding burnout…
I balance my stresses, family and personal time by ensuring there is a balance (family, work & interests/hobbies)
What frustrates you most about the way mental health is dealt with in your country?
The problem with Mental Health in Australia Starts with the Pressures on Families and the Education System. Communities and the Support mechanisms that were available years ago have changed. There is a need for Mentors in our society and give value to the people that have helped pave the way for our younger Generations.
The way the Medical profession administer Drugs before basic questions are asked. So many people go to their GP and get shuffled off to the chemist for a quick fix rather than dealing with the root cause.
Can you tell us about your most uplifting experience treating a recent client? (anonymously of course!)
Some of the best moments were Teaching one of my students to overcome his own issues (40 + years of drinking, alcoholic parents with limiting beliefs) and enabling him to pass on a great gift to his children and a skill he help others to be the best they can be.
Helping clients be better at home and better at their sports, seeing their achievements gives me a great feeling knowing that I have helped them regain control.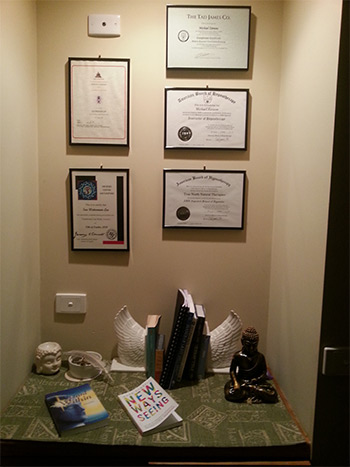 Pictured above: Michael's therapy room. And yes that's New Ways of Seeing by Mark Tyrrell in pride of place ;)
If you would like to be our next Practitioner in Focus, click here and let us know!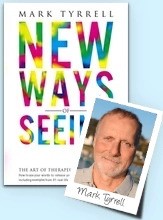 FREE Reframing Book! Just subscribe to my therapy techniques newsletter below.
Download my book on reframing, "New Ways of Seeing", when you subscribe for free email updates
Search for more therapy techniques: