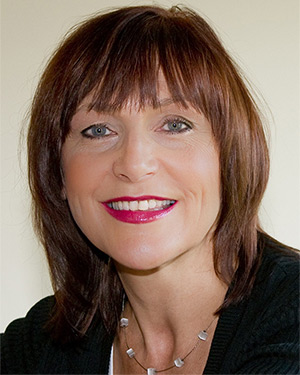 Janice Bowles is a hypnotherapist from Oxfordshire in the UK.
How long have you been practising?
19 years.
What sort of practitioner are you?
Hypnotherapist. Law of Attraction when appropriate or asked for.
Do you see clients from home or in a clinic?
From home.
What problems/issues do you treat most frequently?
Weight issues, anxiety and emotional issues, phobia and emotional trauma.
What are your biggest frustrations running your practice?
Reaching potential clients, clients occasionally showing up, because I usually treat a problem in 2 occasionally 3 sessions I am constantly seeking new clients! Attracting new clients, which mostly come through word of mouth yet clients are reluctant to talk about the fact they have had therapy in the first place!
What do you find hardest about your daily work?
I don't really find anything hard however, it's mostly staying positive when clients are thin on the ground.
Do you find your professional body supportive and helpful? Do they help you create connections with fellow therapists?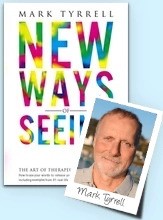 FREE Reframing Book! Just subscribe to my therapy techniques newsletter below.
Download my book on reframing, "New Ways of Seeing", when you subscribe for free email updates
It is probably up to me to be more active with that but there isn't an obvious group of therapists I could connect with.
How do you balance work and life? Stress management/avoiding burnout…
I like to walk in the countryside. I'm fortunate to have a beautiful nature reserve on my doorstep! I listen to a meditation-relaxation audio most days, I practice self-talk that encourages a place of well-being. I mostly enjoy getting outside and being with nature be that my animals, gardening etc.
What motivated you to become a therapist in the first place?
My own experience with depression which was triggered by the loss of a parent at a time when many other changes were occurring in my life. However my other strong motivation to be a therapist is a desire to uplift people and to help them resolve issues that they are tolerating or at least find a better-feeling place for those issues.
What frustrates you most about the way mental health is dealt with in your country?
Seriously, I do my best to avoid issues that lead to a feeling of frustration because of my belief in the law of attraction. If I felt inspired to tackle such issues all well and good but I prefer to do my work in an environment that keeps me in a good-feeling place. From this perspective I believe that I can do more for other people. I don't need to fix things I have little control over or no desires to get involved with. In a way I have always been like that. Even as a child I remember not wanting to be drawn into situations or feel that I should have some opinion about something that wasn't really my business! (Whew! That honesty felt good!)
Can you tell us about your most uplifting experience treating a recent client? (anonymously of course!)
A client from one year ago telephoned me out of the blue and asked if she could call by to show me how much weight she had lost. In twelve months she has lost 6 ½ stones and was delighted! She told me it had been life-changing for her. (Unfortunately she didn't want me to have a photograph of her new look).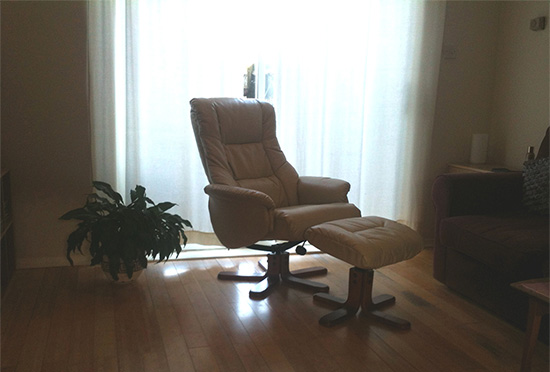 Pictured above: Janice's therapy room. You can read more about Janice's work here.
If you would like to be our next Practitioner in Focus, click here and let us know!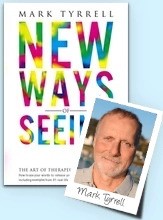 FREE Reframing Book! Just subscribe to my therapy techniques newsletter below.
Download my book on reframing, "New Ways of Seeing", when you subscribe for free email updates
Search for more therapy techniques: