This podcast is the narrated version of my article The Dark Side of Your Emotional Needs – Meaning.
When our lives feel meaningful we are energized and focused. Even suffering is made more bearable. So when the human need for meaning is met in an unhealthy way, it can wreak havoc.
In this episode I talk about:
The holy search for happiness
To give is to get
Making idols of demons
Whom are we doing this for?
Serving but not subservient
Meaning, or excitement?
Meaning making
Serving a higher need
Nothing really matters
What I've tried to do
But it means so much to me!
Looking for meaning in the wrong places
Neglecting more meaningful parts of life
When the price is too high
Or watch this episode of the podcast on video below:
References/Notes:
Subscribe to Mark Tyrrell's Therapy and Counselling Tips Podcast
Twice a week, Mark reads one of his therapy tips articles and occasionally discusses psychology-related topics.
Listen & Subscribe to Clear Thinking Out Loud here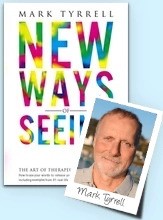 FREE Reframing Book! Just subscribe to my therapy techniques newsletter below.
Download my book on reframing, "New Ways of Seeing", when you subscribe for free email updates