This podcast is the narrated version of my article How to Work With Different Client Personality Types.
We can, and even must, use a person's character and personality to help them thrive. Here are three ways to help you see your client clearly so you can work with them effectively.
In this episode I talk about:
It takes all sorts
How our balance of needs shapes us
The difference between personality and character
Adopting a persona to suit the setting
The Big Five personality traits
When who you are is wrong
See beyond the snapshot
Treat the personality
Evoke the power within
Or watch this episode of the podcast on video below:
Subscribe to Mark Tyrrell's Therapy and Counselling Tips Podcast
Twice a week, Mark reads one of his therapy tips articles and occasionally discusses psychology-related topics.
Listen & Subscribe to Clear Thinking Out Loud here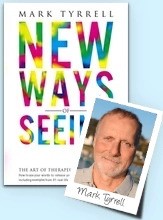 FREE Reframing Book! Just subscribe to my therapy techniques newsletter below.
Download my book on reframing, "New Ways of Seeing", when you subscribe for free email updates