This podcast is the narrated version of my article What to Do When You Feel Hopeless About a Client.
When a client is unresponsive to therapy, it can feel deflating. Here are five ways to think outside the box and regain your therapeutic motivation.
In this episode I talk about:
Constant, silent tears
Climbing out of depression
Learning from clients
The rise of the mood viruses
A terrible thought
Tip one: Stop doing what ain't working
Tip two: Don't (overly) blame yourself
Tip three: Use negativity positively
Tip four: Remember that people are surprising
Tip five: By your very being, transmit your positive expectation
Or watch this episode of the podcast on video below:
References/Notes:
Subscribe to Mark Tyrrell's Therapy and Counselling Tips Podcast
Twice a week, Mark reads one of his therapy tips articles and occasionally discusses psychology-related topics.
Listen & Subscribe to Clear Thinking Out Loud here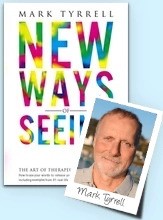 FREE Reframing Book! Just subscribe to my therapy techniques newsletter below.
Download my book on reframing, "New Ways of Seeing", when you subscribe for free email updates