This podcast is the narrated version of my article 3 Supportive Strategies for Strengthening the Therapeutic Alliance.
The therapeutic alliance is a base from which therapy can happen. And in order for that base to develop, we need to be a certain way for our clients.
In this episode I talk about:
A real, human alliance
Therapeutic alliance, not reliance
Emphasize the therapeutic alliance in the way you speak
Remember that therapy is a learning situation
Heighten expectation through your confidence
Or watch this episode of the podcast on video below:
References/Notes:
Subscribe to Mark Tyrrell's Therapy and Counselling Tips Podcast
Twice a week, Mark reads one of his therapy tips articles and occasionally discusses psychology-related topics.
Listen & Subscribe to Clear Thinking Out Loud here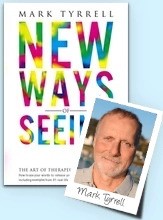 FREE Reframing Book! Just subscribe to my therapy techniques newsletter below.
Download my book on reframing, "New Ways of Seeing", when you subscribe for free email updates