This podcast is the narrated version of my article Treating the Angry Client.
When left untreated, destructive anger can steal friendships, partners, jobs and even health. Here are five calming tips to tame the beast within your angry clients.
In this episode I talk about:
How anger affects the brain (angry = stupid)
Anger kills – but not just the other guy
Discover what pushes your clients' buttons
Insert some distance between clients and the source of frustration
Use rehearsal to help your client see wider
Don't get angry, for pity's sake
Help them deal with real frustrations
Inhabiting heaven
Or watch this episode of the podcast on video below:
References/Notes:
Ironson, G (1992), Effects of anger on left ventricular ejection fraction in coronary heart disease, American Journal of Cardiology, 70
Repeatedly expressing anger can have the effect of strengthening the anger pathways in the brain, making us more likely to become angry more often, according to Donald Hebb, the psychologist who proposed 'Hebbian learning'.
In one study, conducted at Stanford Medical School, heart patients were asked to recall times when they had been angry. Although, according to the patients, the anger they felt on recalling the events was only half as strong as it had been during the original experience, their hearts started pumping, on average, 5% less efficiently. Cardiologists view a 7% drop in pumping efficiency as serious enough to cause a heart attack.
Subscribe to Mark Tyrrell's Therapy and Counselling Tips Podcast
Twice a week, Mark reads one of his therapy tips articles and occasionally discusses psychology-related topics.
Listen & Subscribe to Clear Thinking Out Loud here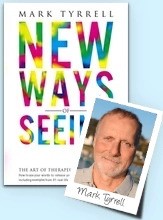 FREE Reframing Book! Just subscribe to my therapy techniques newsletter below.
Download my book on reframing, "New Ways of Seeing", when you subscribe for free email updates