This podcast is the narrated version of my article 5 Proven Behavioural Interventions for Depression.
As terrible as depression is, some simple interventions can be surprisingly effective in relieving symptoms. Use these techniques to help clients rediscover their enjoyment of life.
In this episode I talk about:
"You can't possibly know my lived experience!"
The value of clear understanding and rapport
The reassurance of knowledge
A multi-pronged approach
Behavioural interventions for depression
Overcoming "but what's the point?"
Pre-empting the objection
Intervention one: Tell and show them they don't have to ruminate
Intervention two: Give them an intrinsically satisfying task
Intervention three: Aim to do just five minutes
Intervention four: Help them get some real face time
Intervention five: They've got to move it move it!
Helping a therapist overcome imposter syndrome
Or watch this episode of the podcast on video below:
References/Notes:
Subscribe to Mark Tyrrell's Therapy and Counselling Tips Podcast
Twice a week, Mark reads one of his therapy tips articles and occasionally discusses psychology-related topics.
Listen & Subscribe to Clear Thinking Out Loud here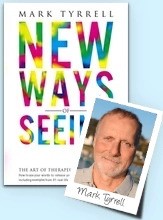 FREE Reframing Book! Just subscribe to my therapy techniques newsletter below.
Download my book on reframing, "New Ways of Seeing", when you subscribe for free email updates