This podcast is the narrated version of my article 5 Ways to Help Your Clients Make Tough Decisions.
We all approach life's crossroads sometimes. There are paths, maybe many, to choose from. Help your clients see things more clearly so they can move forward.
In this episode I talk about:
Overanalysis = decision paralysis
The agony of indecision
Step one: Break down the absolutist thinking
Step two: Why wait for certainty?
Step three: Decide not to decide for a while
Step four: Help your client avoid these four common decision-making mistakes
Step five: Trust your gut
Trust your unconscious
Don't overthink!
Quick pointers for good decision making
Or watch this episode of the podcast on video below:
References/Notes:
Subscribe to Mark Tyrrell's Therapy and Counselling Tips Podcast
Twice a week, Mark reads one of his therapy tips articles and occasionally discusses psychology-related topics.
Listen & Subscribe to Clear Thinking Out Loud here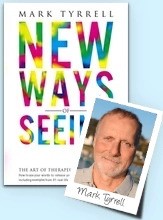 FREE Reframing Book! Just subscribe to my therapy techniques newsletter below.
Download my book on reframing, "New Ways of Seeing", when you subscribe for free email updates