This podcast is the narrated version of my article The 7 Worst Business Mistakes I Made as a New Therapist.
By giving you the seven worst therapy business mistakes I made, I hope you can speed up the process of developing a successful practice!
In this episode I talk about:
Solo practitioner reality bites
Expecting clients to beat a path to my door
Settling for fantasy over action
Feeling pathetically grateful to be paid
Not pursuing ideas which made money
Not saying no to save time and money
Not using money to make money
Trying to do it all myself
Or watch this episode of the podcast on video below:
References/Notes:
Oettingen, G. and Mayer, D. (2002). The motivating function of thinking about the future: Expectations versus fantasies. Journal of Personality and Social Psychology.
Subscribe to Mark Tyrrell's Therapy and Counselling Tips Podcast
Twice a week, Mark reads one of his therapy tips articles and occasionally discusses psychology-related topics.
Listen & Subscribe to Clear Thinking Out Loud here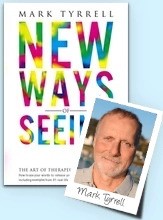 FREE Reframing Book! Just subscribe to my therapy techniques newsletter below.
Download my book on reframing, "New Ways of Seeing", when you subscribe for free email updates