This podcast is the narrated version of my article The Dark Side of Your Emotional Needs – Safety.
Part two of the series explores the inherent human need to feel safe and secure and shows how it can lead those desperate enough into unsafe situations.
In this episode I talk about:
Uncontrolled unconscious drives
Safety first
Fear, anxiety, panic, and obsession…
… meanness, timidity, and depression
From chronic reassurance-seeking to horrific flashbacks
When people become parasites
Captivating cults
Ideological safety
A more modern form of safety
My vulnerable and wealthy client
Helping our clients find real, sustainable safety
Or watch this episode of the podcast on video below:
Subscribe to Mark Tyrrell's Therapy and Counselling Tips Podcast
Twice a week, Mark reads one of his therapy tips articles and occasionally discusses psychology-related topics.
Listen & Subscribe to Clear Thinking Out Loud here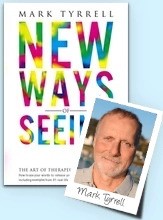 FREE Reframing Book! Just subscribe to my therapy techniques newsletter below.
Download my book on reframing, "New Ways of Seeing", when you subscribe for free email updates