This podcast is the narrated version of my article 3 Loneliness-Busting CBT Techniques for Social Anxiety.
These cognitive behavioural therapy strategies can help clients move past limiting fears and feel more socially comfortable.
In this episode I talk about:
The antidote to fear
Technique one: Breathe out and count
Technique two: Focus away from the inside of your own head
Technique three: Catch and challenge cognitive distortions
Or watch this episode of the podcast on video below:
References/Notes:
Subscribe to Mark Tyrrell's Therapy and Counselling Tips Podcast
Twice a week, Mark reads one of his therapy tips articles and occasionally discusses psychology-related topics.
Listen & Subscribe to Clear Thinking Out Loud here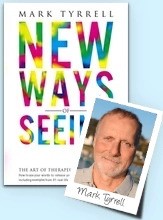 FREE Reframing Book! Just subscribe to my therapy techniques newsletter below.
Download my book on reframing, "New Ways of Seeing", when you subscribe for free email updates