This podcast is the narrated version of my article Three Natural Ways to Use 'Deepeners' in Hypnosis.
Hypnotherapists use the word 'deep' to describe a state with a greater degree of perceptual abstraction. Here are three ways we can help our clients go deeper into trance naturalistically.
In this episode I talk about:
So who else likes using the metaphor 'deep'?
My thoughts on hypnotic deepeners
Deepener One: Ask them to (hypnotically)
Deepener Two: Make going deeper contingent upon physical phenomena
Deepener Three: Worlds within worlds
Or watch this episode of the podcast on video below:
Subscribe to Mark Tyrrell's Therapy and Counselling Tips Podcast
Twice a week, Mark reads one of his therapy tips articles and occasionally discusses psychology-related topics.
Listen & Subscribe to Clear Thinking Out Loud here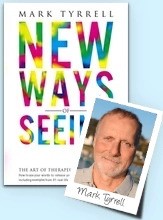 FREE Reframing Book! Just subscribe to my therapy techniques newsletter below.
Download my book on reframing, "New Ways of Seeing", when you subscribe for free email updates