This podcast is the narrated version of my article Uncovering Hidden Trauma.
Here are five cases from my own records in which trauma was found to be driving the current problem despite initially not being obvious.
In this episode I talk about:
First, an essential caveat
Case one: Fainting fits – The girl who enacted death
Case two: Hypochondria – The woman who couldn't trust her body
Case three: Panic attacks – The man who called the police
Case four: Obsessive compulsive disorder – The woman who hated nursing homes
Case five: Depression – Jealous of a phantom
The missing piece that completes the puzzle
Or watch this episode of the podcast on video below:
References/Notes:
See my father's interview with Mark Pendergrast: http://blog.humangivens.com/2012/06/hg-library-shattered-lives-interview.html
Subscribe to Mark Tyrrell's Therapy and Counselling Tips Podcast
Twice a week, Mark reads one of his therapy tips articles and occasionally discusses psychology-related topics.
Listen & Subscribe to Clear Thinking Out Loud here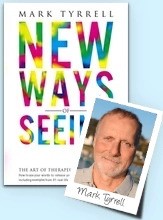 FREE Reframing Book! Just subscribe to my therapy techniques newsletter below.
Download my book on reframing, "New Ways of Seeing", when you subscribe for free email updates