This podcast is the narrated version of my article Socratic Questioning in Depression Therapy.
Here are three ways to cut through a client's negative rumination and ask healing antidepressant questions.
In this episode I talk about:
Learning to live and love again
The change
Socratic questioning: Teaching by asking instead of telling
Socrates and the art of happy discovery
Does your idea apply in all contexts, and if not, why not?
"Is it possible…?"
Are there any other possible reasons?
What's the evidence?
Fair and square
Or watch this episode of the podcast on video below:
References/Notes:
Subscribe to Mark Tyrrell's Therapy and Counselling Tips Podcast
Twice a week, Mark reads one of his therapy tips articles and occasionally discusses psychology-related topics.
Listen & Subscribe to Clear Thinking Out Loud here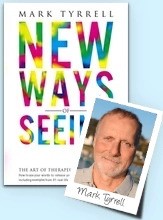 FREE Reframing Book! Just subscribe to my therapy techniques newsletter below.
Download my book on reframing, "New Ways of Seeing", when you subscribe for free email updates