This podcast is the narrated version of my article Should You Ever Pass Judgement on Your Clients?.
Three tips to help you work effectively with clients who challenge your therapeutic objectivity.
In this episode I talk about:
Don't you dare judge me!
How the world shapes who we are
Education vs brainwashing
Nothing really matters. Or does it?
Step one: See what comes up for you
Step two: Do you still feel your response is natural and valid?
Step three: Consider your options
Or watch this episode of the podcast on video below:
References/Notes:
Subscribe to Mark Tyrrell's Therapy and Counselling Tips Podcast
Twice a week, Mark reads one of his therapy tips articles and occasionally discusses psychology-related topics.
Listen & Subscribe to Clear Thinking Out Loud here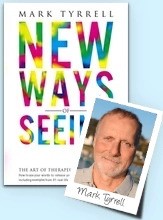 FREE Reframing Book! Just subscribe to my therapy techniques newsletter below.
Download my book on reframing, "New Ways of Seeing", when you subscribe for free email updates