This podcast is the narrated version of my article Should Hypnosis Ever Be Used to Treat Depression?.
The symptoms of depression and characteristics of a hypnotized subject share some similarities. This causes hypnosis to resonate strongly with depressed patients, and it can be an effective healing tool if used in the right way.
In this episode I talk about:
Unquestioned Authority
Depression is already a sort of hypnosis
Two common features of depression and hypnosis
More of the same misery
Using trance to treat trance
Or watch this episode of the podcast on video below:
References/Notes:
Sigmund Freud initially believed that reports of childhood sexual abuse from patients were genuine but then abandoned this 'seduction theory' in favour of believing that abuse memories must be infantile fantasy. https://en.wikipedia.org/wiki/Freud%27s_seduction_theory
Subscribe to Mark Tyrrell's Therapy and Counselling Tips Podcast
Twice a week, Mark reads one of his therapy tips articles and occasionally discusses psychology-related topics.
Listen & Subscribe to Clear Thinking Out Loud here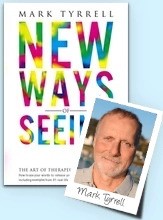 FREE Reframing Book! Just subscribe to my therapy techniques newsletter below.
Download my book on reframing, "New Ways of Seeing", when you subscribe for free email updates