This podcast is the narrated version of my article How to Use the Affect Bridge to Instantly Raise Self-Esteem.
Here are four ways to free your clients from the influence of negative memories using the Affect Bridge
In this episode I talk about:
Back to the source
Dangerous consequences
"Shut up! You're boring!"
Find the feeling
Find the memory
Reframe the memory
Rehearse new patterns
Or watch this episode of the podcast on video below:
References/Notes:
Vasquez, N. A. and Buehler, R., Seeing future success: Does imagery perspective influence achievement motivation? Personality and Social Psychology Bulletin, October 2007 vol. 33 no. 10, 1392-1405
Subscribe to Mark Tyrrell's Therapy and Counselling Tips Podcast
Twice a week, Mark reads one of his therapy tips articles and occasionally discusses psychology-related topics.
Listen & Subscribe to Clear Thinking Out Loud here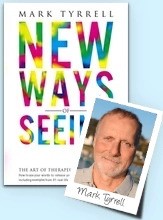 FREE Reframing Book! Just subscribe to my therapy techniques newsletter below.
Download my book on reframing, "New Ways of Seeing", when you subscribe for free email updates