This podcast is the narrated version of my article How To Stop Your Clients Catastrophizing About The Future.
Subtle gentle ways to change your clients' thinking style so they stop catastrophizing about the future
In this episode I talk about:
Mad Maggie at work
Thinking further than the possible emotional pain
Match their emotional experience
Go through the likely reality of the feared experience in all its nuances
Imaginatively rehearse them getting through it and eventually thriving
Or watch this episode of the podcast on video below:
Subscribe to Mark Tyrrell's Therapy and Counselling Tips Podcast
Twice a week, Mark reads one of his therapy tips articles and occasionally discusses psychology-related topics.
Listen & Subscribe to Clear Thinking Out Loud here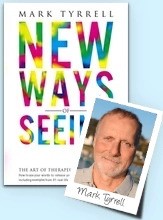 FREE Reframing Book! Just subscribe to my therapy techniques newsletter below.
Download my book on reframing, "New Ways of Seeing", when you subscribe for free email updates