This podcast is the narrated version of my article A Quick Therapeutic Exercise That Boosts Emotional Resilience.
It's well known now that gratitude is a key part of an emotionally balanced life. We can help our clients integrate this into their lives but must be careful that we don't end up making them feel guilty instead.
In this episode I talk about:
The worried well
Whose life is it anyway?
Gratitude and suffering
A therapeutic exercise to help your client practise gratitude.
Or watch this episode of the podcast on video below:
References/Notes:
See 'Counting blessings versus burdens: An experimental investigation of gratitude and subjective well-being in daily life.' Emmons, Robert A.; McCullough, Michael E. Journal of Personality and Social Psychology, Vol 84(2), Feb 2003, 377-389
Subscribe to Mark Tyrrell's Therapy and Counselling Tips Podcast
Twice a week, Mark reads one of his therapy tips articles and occasionally discusses psychology-related topics.
Listen & Subscribe to Clear Thinking Out Loud here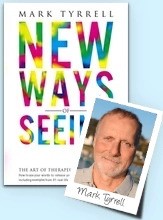 FREE Reframing Book! Just subscribe to my therapy techniques newsletter below.
Download my book on reframing, "New Ways of Seeing", when you subscribe for free email updates