This podcast is the narrated version of my article 6 Soothing Steps for Treating Generalized Anxiety Disorder.
Anxiety is perhaps the most prevalent of problems in our clients. It makes mountains out of molehills, and monsters out of moles.
In this episode I talk about:
How the modern world turned a survival response into a psychiatric disorder
"My brain is constantly on high alert!" (But knowing it doesn't help)
Step 1: Find the pattern
Step 2: Find the missing needs
Step 3: Find the origins of the emotional conditioning
Step 4: Find the exception times
Step 5: Find ways to minimize worry
Step 6: Relax your client deeply.
Or watch this episode of the podcast on video below:
References/Notes:
The standard psychiatric definition (from the DSM IV manual) states that generalized anxiety disorder means "at least 6 months of 'excessive anxiety and worry' about a variety of events and situations. Generally, 'excessive' can be interpreted as more than would be expected for a particular situation or event. There is significant difficulty in controlling the anxiety and worry."
Subscribe to Mark Tyrrell's Therapy and Counselling Tips Podcast
Twice a week, Mark reads one of his therapy tips articles and occasionally discusses psychology-related topics.
Listen & Subscribe to Clear Thinking Out Loud here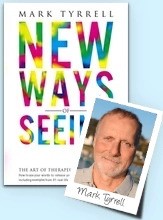 FREE Reframing Book! Just subscribe to my therapy techniques newsletter below.
Download my book on reframing, "New Ways of Seeing", when you subscribe for free email updates