This podcast is the narrated version of my article How to Build Rapid Rapport with Even the Most Difficult Clients.
Client-practitioner rapport is essential for effective therapeutic work, but how do we build rapport with 'difficult' clients? The utilization principle works with any client and appeals to an individual's unique personality traits and interests to bring about change.
In this episode I talk about:
Why building rapport is much more than 'mirroring, matching, and leading'
Marching into trance: The power of utilization
More effective communication through utilization
Why we need to stop the psych-jargon
Building rapport from the inside out
Utilizing the 'gaping problem'.
Or watch this episode of the podcast on video below:
Subscribe to Mark Tyrrell's Therapy and Counselling Tips Podcast
Twice a week, Mark reads one of his therapy tips articles and occasionally discusses psychology-related topics.
Listen & Subscribe to Clear Thinking Out Loud here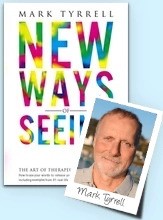 FREE Reframing Book! Just subscribe to my therapy techniques newsletter below.
Download my book on reframing, "New Ways of Seeing", when you subscribe for free email updates