This podcast is the narrated version of my article Deconstructing Double Binds.
Clients can find themselves in catch-22, no-win, psychological double binds which seem impossible to escape. A vigilant practitioner will spot these and help create new options that the client hadn't considered, thereby dissolving the double bind.
In this episode I talk about:
How double binds glue emotional problems in place
Why you need to look for the pay-off
How changing one part of the pattern can change everything
Or watch this episode of the podcast on video below:
Subscribe to Mark Tyrrell's Therapy and Counselling Tips Podcast
Twice a week, Mark reads one of his therapy tips articles and occasionally discusses psychology-related topics.
Listen & Subscribe to Clear Thinking Out Loud here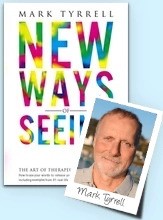 FREE Reframing Book! Just subscribe to my therapy techniques newsletter below.
Download my book on reframing, "New Ways of Seeing", when you subscribe for free email updates