This podcast is the narrated version of my article 6 Easy Behavioural Interventions for Anxiety.
Behavioural interventions can be highly effective for anxiety as they break the cycle of worry and paralysis by analysis. Getting your client to do something different, however small, can make all the difference.
In this episode I talk about:
The multi-pronged approach to treating anxiety
The mysterious power of chewing gum
Naming the anxiety
Facing the anxiety
Breathing away the anxiety
Grading the anxiety
Discharging the anxiety
Teach your clients the AWARE technique
Or watch this episode of the podcast on video below:
References/Notes:
Subscribe to Mark Tyrrell's Therapy and Counselling Tips Podcast
Twice a week, Mark reads one of his therapy tips articles and occasionally discusses psychology-related topics.
Listen & Subscribe to Clear Thinking Out Loud here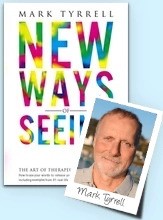 FREE Reframing Book! Just subscribe to my therapy techniques newsletter below.
Download my book on reframing, "New Ways of Seeing", when you subscribe for free email updates