This podcast is the narrated version of my article Stop Couples Arguing With These 3 Couples Therapy Techniques.
"Why do you two hate each other so much? Why don't you just get a divorce?" I asked, interrupting the pattern of their well-practised bickering.
In this episode I talk about:
When love feels like hate
Man and woman as machines
Pattern Interrupt Tip 1: Play devil's advocate
Pattern Interrupt Tip 2: Change something about the problem behaviour
Pattern Interrupt Tip 3: Use hypnosis to re-evoke their love
Not the be all and end all
Or watch this episode of the podcast on video below:
References/Notes:
A bit like this chap: The soldier who refused to surrender.
Subscribe to Mark Tyrrell's Therapy and Counselling Tips Podcast
Twice a week, Mark reads one of his therapy tips articles and occasionally discusses psychology-related topics.
Listen & Subscribe to Clear Thinking Out Loud here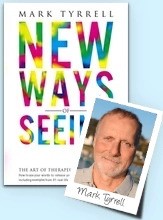 FREE Reframing Book! Just subscribe to my therapy techniques newsletter below.
Download my book on reframing, "New Ways of Seeing", when you subscribe for free email updates