This podcast is the narrated version of my article Story Therapy; Why It Works And How To Do It With Your Clients.
Story therapy at the right time can facilitate psychological and even physical healing and embedding traditional tales into therapy sessions is something I do a lot.
In this episode I talk about:
So why does story therapy work?
How story therapy got rid of a boy's warts
Read, listen and learn stories
Learn the story pattern, not just the content
How to make your stories hypnotic
Or watch this episode of the podcast on video below:
References/Notes:
Rob Parkinson: Transforming Tales: How Stories Can Change People. Jessica Kingsley Publishers 2009. ISBN-10: 1843109743; ISBN-13: 978-1843109747
Idries Shah: World Tales. Octagon Press 1991. ISBN-10: 0863040365; ISBN-13: 978-0863040368
World Tales. Pg 242
Subscribe to Mark Tyrrell's Therapy and Counselling Tips Podcast
Twice a week, Mark reads one of his therapy tips articles and occasionally discusses psychology-related topics.
Listen & Subscribe to Clear Thinking Out Loud here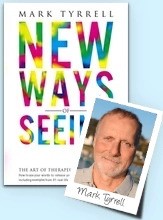 FREE Reframing Book! Just subscribe to my therapy techniques newsletter below.
Download my book on reframing, "New Ways of Seeing", when you subscribe for free email updates