This podcast is the narrated version of my article Why There's No Need to Relive the Trauma All Over Again.
"My father murdered my mother. Right in front of me and my brother. The police came and took my dad away and eventually he was put in a secure psychiatric hospital. After that, me and John went to live with our grandparents. That's when the real trouble started."
In this episode I talk about:
When talking makes things worse
Back into hell
Exorcising haunted minds
How your memories are made
PTSD – the memories that won't fade
Healing haunted minds
Resurrected hypnosis and tapping
Be kind, rewind
The upshot for June
A new life
Confronting demons
Or watch this episode of the podcast on video below:
References/Notes:
Rose S, Bisson J, Churchill R, Wessely S. Psychological debriefing for preventing post traumatic stress disorder (PTSD). Cochrane Database Syst Rev. 2002;(2):CD000560.
Wilson, J.P and Keane, T.M (1997) Assessing Psychological Trauma and PTSD. The Guilford Press.
Joe Griffin and Ivan Tyrrell (2003) Human Givens: A new approach to emotional health and clear thinking. HG Publishing. (p282)
Shapiro, F. and Forrest, M.S. (1997) EMDR. Basic Books.
Dr D C Muss (1991) "A new technique for treating Posttraumatic Stress Disorder". British Journal of Clinical Psychology,1991, 30, 91-92.
Subscribe to Mark Tyrrell's Therapy and Counselling Tips Podcast
Twice a week, Mark reads one of his therapy tips articles and occasionally discusses psychology-related topics.
Listen & Subscribe to Clear Thinking Out Loud here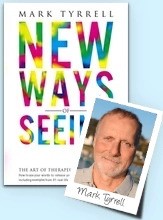 FREE Reframing Book! Just subscribe to my therapy techniques newsletter below.
Download my book on reframing, "New Ways of Seeing", when you subscribe for free email updates