This podcast is the narrated version of my article 3 Confidence Tips For Therapists and Counsellors Wrestling With Self Doubt.
Confidence isn't just about certainty. We may be the professionals, but we are not all-knowing seers.
In this episode I talk about:
Self-doubting therapists
What exactly is confidence?
Understand the fundamentals
Practise what you preach
Trust yourself
Or watch this episode of the podcast on video below:
Subscribe to Mark Tyrrell's Therapy and Counselling Tips Podcast
Twice a week, Mark reads one of his therapy tips articles and occasionally discusses psychology-related topics.
Listen & Subscribe to Clear Thinking Out Loud here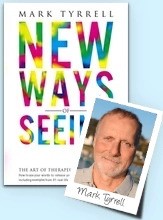 FREE Reframing Book! Just subscribe to my therapy techniques newsletter below.
Download my book on reframing, "New Ways of Seeing", when you subscribe for free email updates