This podcast is the narrated version of my article 3 Psychotherapy Techniques That Identify Your Client's Real Problem.
Some clients are clear on what they want to achieve in therapy. Others present an amorphous cloud of detail that can hypnotize us with by detail, leaving us almost as confused and overwhelmed and they are.
In this episode I talk about:
How to avoid getting bamboozled by your client
How to discover what are they not getting from their life
What 'faulty pattern matching' is going on?
What are your client's metaphors telling you?
Or watch this episode of the podcast on video below:
References/Notes:
As initially recognized by the originators of the Human Givens approach
See Human Givens by Joe Griffin and Ivan Tyrrell
Photo courtesy of John Hritz
Subscribe to Mark Tyrrell's Therapy and Counselling Tips Podcast
Twice a week, Mark reads one of his therapy tips articles and occasionally discusses psychology-related topics.
Listen & Subscribe to Clear Thinking Out Loud here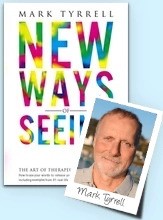 FREE Reframing Book! Just subscribe to my therapy techniques newsletter below.
Download my book on reframing, "New Ways of Seeing", when you subscribe for free email updates