This podcast is the narrated version of my article Treating Perfectionism: 3 Therapy Strategies.
Sandy's militant perfectionism had left her isolated and lonely. Here's how I helped her change her thinking style.
In this episode I talk about:
It's lonely being perfect, especially when you're not
What's wrong with having high standards?
The tyranny of perfectionism
Describe the pattern
Encourage a wider context
Encourage downtime
Or watch this episode of the podcast on video below:
References/Notes:
Hewitt, P.L., Flett, G.L., Ediger, E. (1995). Perfectionism Traits and Perfectionistic Self-Presentation in Eating Disorder Attitudes, Characteristics, and Symptoms. International Journal of Eating Disorders, 18(4). 317-326. DOI: 10.1.1.458.8328.
Sutandar-Pinnock, K., Woodside, D.B., Carter, J.C., Olmsted, M.P., and Kaplan, A.S. (2003). Perfectionism in Anorexia Nervosa: A 6-24-month follow-up study. International Journal of Eating Disorders, 33(2). 225-229. DOI: 10.1002/eat.10127.
See: Seligman, M. (2006). Learned Optimism: How to Change Your Mind and Your Life.
Subscribe to Mark Tyrrell's Therapy and Counselling Tips Podcast
Twice a week, Mark reads one of his therapy tips articles and occasionally discusses psychology-related topics.
Listen & Subscribe to Clear Thinking Out Loud here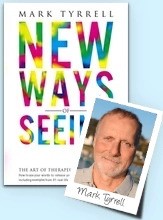 FREE Reframing Book! Just subscribe to my therapy techniques newsletter below.
Download my book on reframing, "New Ways of Seeing", when you subscribe for free email updates