This podcast is the narrated version of my article Build Your Client A Roadmap Out Of Depression (4 Quick Psychotherapy Techniques).
A depressed client may (quite naturally) want to tell you all about their depression, but to really begin working with them you'll need to discover where they actually want to go in positive terms. This isn't always easy because the depressive mindset inhibits solution focused thinking about the future, but with a little work you can get there.
In this episode I talk about:
Why depression is a strange city
How to astablish clear goals
How to break down all or nothing thinking
Why grading the depression is important and how to do it
Why to check the roadmap for avoiding depression in future
Or watch this episode of the podcast on video below:
Subscribe to Mark Tyrrell's Therapy and Counselling Tips Podcast
Twice a week, Mark reads one of his therapy tips articles and occasionally discusses psychology-related topics.
Listen & Subscribe to Clear Thinking Out Loud here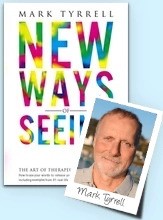 FREE Reframing Book! Just subscribe to my therapy techniques newsletter below.
Download my book on reframing, "New Ways of Seeing", when you subscribe for free email updates