This podcast is the narrated version of my article Why Affirmations and Compliments Don't Boost Low Self Esteem.
Working with low self esteem is much easier when you understand how it is warping your client's thinking style. Once you see how emotional conditioning is driving negative thinking, it becomes much easier to help your client stop the negative thoughts at the source.
In this episode I talk about:
The dangers of arguing with strong beliefs
How to agree – and then disagree
Using metaphor to bypass conscious argument
Reframing negatives as positives – but carefully!
Or watch this episode of the podcast on video below:
Subscribe to Mark Tyrrell's Therapy and Counselling Tips Podcast
Twice a week, Mark reads one of his therapy tips articles and occasionally discusses psychology-related topics.
Listen & Subscribe to Clear Thinking Out Loud here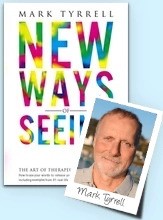 FREE Reframing Book! Just subscribe to my therapy techniques newsletter below.
Download my book on reframing, "New Ways of Seeing", when you subscribe for free email updates