This podcast is the narrated version of my article 3 Ways to Ask Exception Questions.
Exception questions are a valuable tool from Solution Focused Therapy. In this podcast I talk about a smoking cessation client where I used exception questions to help him use his love of swimming to wash smoking out of his life forever.
In this episode I talk about:
Why there's an exception to every rule and how to use this
How to tell when the problem isn't a problem
Asking about times when the problem pattern doesn't happen
Asking what was different
Using presuppositions to help pinpoint resourceful exceptions
Spreading the calm around
Or watch this episode of the podcast on video below:
Subscribe to Mark Tyrrell's Therapy and Counselling Tips Podcast
Twice a week, Mark reads one of his therapy tips articles and occasionally discusses psychology-related topics.
Listen & Subscribe to Clear Thinking Out Loud here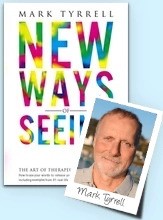 FREE Reframing Book! Just subscribe to my therapy techniques newsletter below.
Download my book on reframing, "New Ways of Seeing", when you subscribe for free email updates