This podcast is the narrated version of my article 3 Firm Fair Ways To Set Boundaries In Therapy.
Setting boundaries with clients doesn't always come naturally to therapy practitioners which can lead to problems in the therapeutic relationship and burnout for therapists and counsellors. Empathy and wanting to help people is what brought you to this work, and for us it's hard to be cruel to be kind.
In this episode I talk about:
Tip One: Why you must keep your 'gratitude' in its proper boundaries
Tip Two: How to be clear with yourself where your boundaries lie
Tip Three: What is means to stay professional in the therapeutic relationship
Or watch this episode of the podcast on video below:
Subscribe to Mark Tyrrell's Therapy and Counselling Tips Podcast
Twice a week, Mark reads one of his therapy tips articles and occasionally discusses psychology-related topics.
Listen & Subscribe to Clear Thinking Out Loud here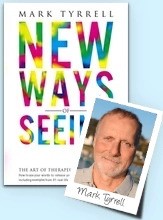 FREE Reframing Book! Just subscribe to my therapy techniques newsletter below.
Download my book on reframing, "New Ways of Seeing", when you subscribe for free email updates