This podcast is the narrated version of my article 3 Vital Reasons Why I Use Hypnosis For Treating OCD – And Why You Should Too.
There's a good reason why I always use hypnosis to treat OCD. Every one of the hundreds of OCD sufferers I've treated over two decades have described how, when they are obsessing or acting compulsively, they feel like they 'space out'. I came to realise that this is very similar to a hypnotic trance state, which gives us insight into how to go about treating OCD.
In this episode I talk about:
About OCD, the miserly slave driver
The part superstition and ritual plays in life
Why OCD is hypnosis and what this means for treatment
How hypnosis lets you communicate with the 'problem part' of the mind
Why hypnosis is a great way to extract the fear from OCD
Or watch this episode of the podcast on video below:
Subscribe to Mark Tyrrell's Therapy and Counselling Tips Podcast
Twice a week, Mark reads one of his therapy tips articles and occasionally discusses psychology-related topics.
Listen & Subscribe to Clear Thinking Out Loud here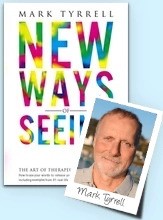 FREE Reframing Book! Just subscribe to my therapy techniques newsletter below.
Download my book on reframing, "New Ways of Seeing", when you subscribe for free email updates