This podcast is the narrated version of my article 3 Interventions for Treating Anxiety.
Sometimes a large part of anxiety therapy is helping your client overcome the 'feeling like a freak' effect caused by too much self consciousness. Self consciousness can present a paradox for therapists in that the client needs to make less effort rather than more in order to overcome it.
In this episode I talk about:
The vicious circle effect of worrying about worrying
How to normalize client problems without minimizing them
Ways to reframe problems by putting them in context and so make them less 'weird'
Why identifying the function of the problem can be profoundly therapeutic
Or watch this episode of the podcast on video below:
Subscribe to Mark Tyrrell's Therapy and Counselling Tips Podcast
Twice a week, Mark reads one of his therapy tips articles and occasionally discusses psychology-related topics.
Listen & Subscribe to Clear Thinking Out Loud here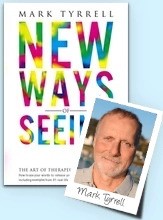 FREE Reframing Book! Just subscribe to my therapy techniques newsletter below.
Download my book on reframing, "New Ways of Seeing", when you subscribe for free email updates