This podcast is the narrated version of my article How to Reframe the 5 Most Common Physical Depression Symptoms.
Depression often causes physical symptoms such as sleep disturbance, aches and pains, loss of sex drive and so on. Here's how to reframe the 5 most common physical symptoms of depression.
In this episode I talk about:
Why it's important to address depression's physical symptoms
Sleep problems
Pain
Loss of sex drive
Poor immunity
Appetite disruption
Or watch this episode of the podcast on video below:
Subscribe to Mark Tyrrell's Therapy and Counselling Tips Podcast
Twice a week, Mark reads one of his therapy tips articles and occasionally discusses psychology-related topics.
Listen & Subscribe to Clear Thinking Out Loud here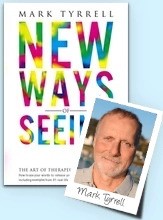 FREE Reframing Book! Just subscribe to my therapy techniques newsletter below.
Download my book on reframing, "New Ways of Seeing", when you subscribe for free email updates