This podcast is the narrated version of my article 3 Easy Psychotherapy Techniques That Make Your Difficult Client More Receptive.
Why do some clients seem difficult? It can be because they're conditioned to respond negatively to their situation and simply can't engage in a positive or solution-focused approach. The technique of  'priming' – the art of getting clients ready for change and optimistic goal setting – can get them on the right track and engaging with therapy.
In this episode I talk about:
How to prime clients psychologically by talking about universal examples of the response they want to have.
Ways to steer the conversation towards topics they feel resourceful about.
How to pepper your language with positive words and why this can help.
Or watch this episode of the podcast on video below:
Subscribe to Mark Tyrrell's Therapy and Counselling Tips Podcast
Twice a week, Mark reads one of his therapy tips articles and occasionally discusses psychology-related topics.
Listen & Subscribe to Clear Thinking Out Loud here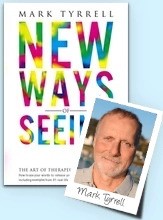 FREE Reframing Book! Just subscribe to my therapy techniques newsletter below.
Download my book on reframing, "New Ways of Seeing", when you subscribe for free email updates