This podcast is the narrated version of my article How to Help Your Clients Achieve Their Therapy Goals.
Therapy goals are great ways to give a client a sense of confidence and engage them in their therapy – as long as they are created in a way that sets the client up for success. The way therapy goals are formulated and presented can make all the difference to a client's motivation and confidence to complete them.
In this episode I talk about:
Stating the goal in positive terms, without going over the top
Leading the client step-by-step towards the goal
Taking one step at a time, psychologically and practically
Selling the sizzle, not the steak
How to use curiosity to boost your client's motivation
Or watch this episode of the podcast on video below:
Subscribe to Mark Tyrrell's Therapy and Counselling Tips Podcast
Twice a week, Mark reads one of his therapy tips articles and occasionally discusses psychology-related topics.
Listen & Subscribe to Clear Thinking Out Loud here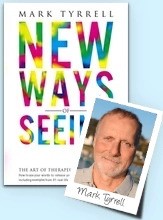 FREE Reframing Book! Just subscribe to my therapy techniques newsletter below.
Download my book on reframing, "New Ways of Seeing", when you subscribe for free email updates