This podcast is the narrated version of my article 6 Things to Say to Motivate Smokers to Quit.
When smokers come to get help quitting, they are not always very motivated. They may have been sent along by someone else, or else know that they 'should' quit, without really feeling they want to. We know that we can't scare smokers into being properly motivated to give up, so what can a hypnotherapist do?
In this episode I talk about:
3 ways to detach the smoking from the smoker
3 smoke-busting metaphors to create motivation at an unconscious level
The person is not the problem, the problem is not the person: using splitting
Or watch this episode of the podcast on video below:
Subscribe to Mark Tyrrell's Therapy and Counselling Tips Podcast
Twice a week, Mark reads one of his therapy tips articles and occasionally discusses psychology-related topics.
Listen & Subscribe to Clear Thinking Out Loud here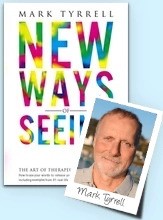 FREE Reframing Book! Just subscribe to my therapy techniques newsletter below.
Download my book on reframing, "New Ways of Seeing", when you subscribe for free email updates