This podcast is the narrated version of my article What You Can Learn from Milton Erickson's Therapy Strategies Beyond 'Just' Hypnosis.
Milton H Erickson, who died in 1980, was a maverick psychiatrist and hypnotherapist. When you read his case studies, it can seem as if he was working on another plane entirely at times. There is much we can learn from Erickson but being as effective as him doesn't mean copying him, but working from similar principles.
In this episode I talk about:
Why today Erickson has followers across the World
How Milton Erickson's life and background contributed to his approach
Erickson's far-reaching influence
How to go beyond the 'cult': understand his understandings
7 principles and techniques Erickson regularly used
Erickson's legacy today
Or watch this episode of the podcast on video below:
Subscribe to Mark Tyrrell's Therapy and Counselling Tips Podcast
Twice a week, Mark reads one of his therapy tips articles and occasionally discusses psychology-related topics.
Listen & Subscribe to Clear Thinking Out Loud here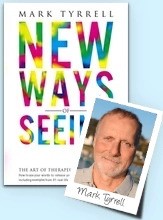 FREE Reframing Book! Just subscribe to my therapy techniques newsletter below.
Download my book on reframing, "New Ways of Seeing", when you subscribe for free email updates