This podcast is the narrated version of my article 3 Hypnotherapy Techniques That Help Your Clients Let Go of the Past.
Amnesia is a natural process, we forget things all the time and never recall them again. But when a memory gets 'stuck' and doesn't age, a client may need a little help allowing it to fade into the background. Hypnotic amnesia is a simple process of using the natural forgetting process to give a client more distance on a memory.
In this episode I talk about:
Casebook example: "I just can't get my ex-boyfriend out of my head!"
How to prime the mind with examples of natural amnesia
Invite contemplation of what it will be like not to notice [X] so much
Why completely changing the subject induces amnesia.
Or watch this episode of the podcast on video below:
Subscribe to Mark Tyrrell's Therapy and Counselling Tips Podcast
Twice a week, Mark reads one of his therapy tips articles and occasionally discusses psychology-related topics.
Listen & Subscribe to Clear Thinking Out Loud here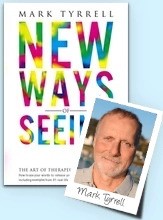 FREE Reframing Book! Just subscribe to my therapy techniques newsletter below.
Download my book on reframing, "New Ways of Seeing", when you subscribe for free email updates