This podcast is the narrated version of my article Working with Resistant Clients: 3 Tried and Tested Tips.
Every therapist, counsellor, psychologist and psychiatrist has experienced how it feels to be at loggerheads with a client. The idea of 'resistance' is deeply embedded in psychotherapy, but how you approach a recalcitrant client can greatly effect how they respond to you and your suggestions.
In this episode I talk about:
The concept of therapeutic martial arts
How to avoid taking it personally
Remember to see what's behind resistance
How to use the resistance to your (and your client's) therapeutic advantage
Or watch this episode of the podcast on video below:
Subscribe to Mark Tyrrell's Therapy and Counselling Tips Podcast
Twice a week, Mark reads one of his therapy tips articles and occasionally discusses psychology-related topics.
Listen & Subscribe to Clear Thinking Out Loud here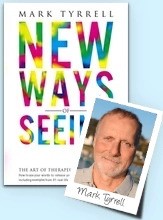 FREE Reframing Book! Just subscribe to my therapy techniques newsletter below.
Download my book on reframing, "New Ways of Seeing", when you subscribe for free email updates