This podcast is the narrated version of my article 3 Healing Ways To Help A Client Manage Their Toxic Mother.
Toxic people can severely disrupt the quality of a client's life if not dealt with properly. Handling toxic people can be difficult, so a good therapist needs to show their clients how to go about it.
In this episode I talk about:
The toxic fallout from Mommie Dearest
Feeding the mouth that bites you
Abuse from the narcissist
You can only get what there is to get
How to plan a 'detox'
How to deal with the fears behind it
Or watch this episode of the podcast on video below:
References/Notes:
An Ohio State University study found that people were more likely to vote in the 2004 presidential election after visualizing themselves voting from the perspective of an outside observer. The study found that 90 per cent of those who had visualized themselves from an outsider's perspective reported voting, while only 72 per cent of those who imagined voting from a first-person perspective did. Additionally, those who used the third-person perspective reported feeling more strongly about the importance of voting.
Subscribe to Mark Tyrrell's Therapy and Counselling Tips Podcast
Twice a week, Mark reads one of his therapy tips articles and occasionally discusses psychology-related topics.
Listen & Subscribe to Clear Thinking Out Loud here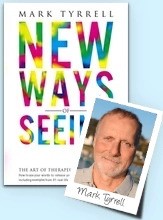 FREE Reframing Book! Just subscribe to my therapy techniques newsletter below.
Download my book on reframing, "New Ways of Seeing", when you subscribe for free email updates