This podcast is the narrated version of my article How To End Therapy With Your Clients.
In this episode I talk about:
Why terminating therapy isn't about throwing clients out. It's about setting clear guidelines and helping them be emotionally ready for it.
Why it's essential to ensure clients' emotional needs are met outside of the therapy room.
How and why to draw their attention back to their original therapy goals.
The essential step of making it clear from the start that therapy will be finite.
Or watch this episode of the podcast on video below:
References/Notes:
Diagnosis, Vol. 2 Treatment Aspect. United States Public Health Service Agency.
Subscribe to Mark Tyrrell's Therapy and Counselling Tips Podcast
Twice a week, Mark reads one of his therapy tips articles and occasionally discusses psychology-related topics.
Listen & Subscribe to Clear Thinking Out Loud here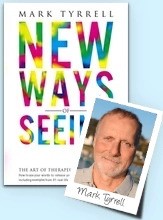 FREE Reframing Book! Just subscribe to my therapy techniques newsletter below.
Download my book on reframing, "New Ways of Seeing", when you subscribe for free email updates