This podcast is the narrated version of my article 4 Great Therapy Techniques For Treating OCD.
In this episode I talk about:
How OCD can be seen as an attempt to stave off anxiety
Why I use the Rewind Technique and why detraumatisation helps OCD
Why it's important to separate OCD from core identity
How to interrupt the patterns that drive OCD
How to use therapeutic hypnosis to fight the 'hypnosis of OCD'
Or watch this episode of the podcast on video below:
References/Notes:
Andrew Luescher, director of Purdue's Animal Behavior Clinic and one of about 30 board certified animal behaviourists in the USA, estimates that 2 percent of the dog population has canine compulsive disorder. Dogs with the condition often display compulsive behaviours such as tail chasing, snapping the air, licking excessively, chewing with an empty mouth and barking monotonously without any change in volume or intonation.
Subscribe to Mark Tyrrell's Therapy and Counselling Tips Podcast
Twice a week, Mark reads one of his therapy tips articles and occasionally discusses psychology-related topics.
Listen & Subscribe to Clear Thinking Out Loud here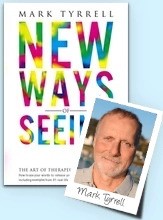 FREE Reframing Book! Just subscribe to my therapy techniques newsletter below.
Download my book on reframing, "New Ways of Seeing", when you subscribe for free email updates