This podcast is the narrated version of my article 5 Tips for Treating Inferiority Complex.
In this episode I talk about:
What it means to never feeling good enough
The anatomy of the inferiority complex
How our World helps us feel inadequate
The danger of peeking at the lives of others
Dealing with emotional memories that support inferiority complex
Dropping the mime in life
Getting specific about the problem and goals
Daring to be different, to be you
Watching out for hidden Utopian assumptions
Or watch this episode of the podcast on video below:
References/Notes:
Subscribe to Mark Tyrrell's Therapy and Counselling Tips Podcast
Twice a week, Mark reads one of his therapy tips articles and occasionally discusses psychology-related topics.
Listen & Subscribe to Clear Thinking Out Loud here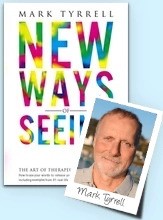 FREE Reframing Book! Just subscribe to my therapy techniques newsletter below.
Download my book on reframing, "New Ways of Seeing", when you subscribe for free email updates